13 Fun Extracurriculars to do With Your Roommate
For many people, the "college experience" is about so much more than just slogging through days, weeks, and months crammed with classes and hours spent studying in the library. Rather, college is also about the relationships you build with others and the new, interesting things you get to do on campus.
One person you'll probably end up spending a lot of time around is your roommate. After all, the two of you (or maybe there are more of you!) come back to the same room every day, spend time studying and doing homework there, and sleep next to each other at night. Whether you are super buddy-buddy with your roommate or the most you ever say to them is "good morning" and "good night," there are many opportunities on your college campus to bond with your roommate in a fun way. Even if you are a little hesitant at first, give it a try! Your roommate will most likely appreciate the effort you are putting into getting to know them better, whether it's the very beginning of a new semester or the end of an entire school year together.
Read on for a few ideas on fun things to do with your roommate.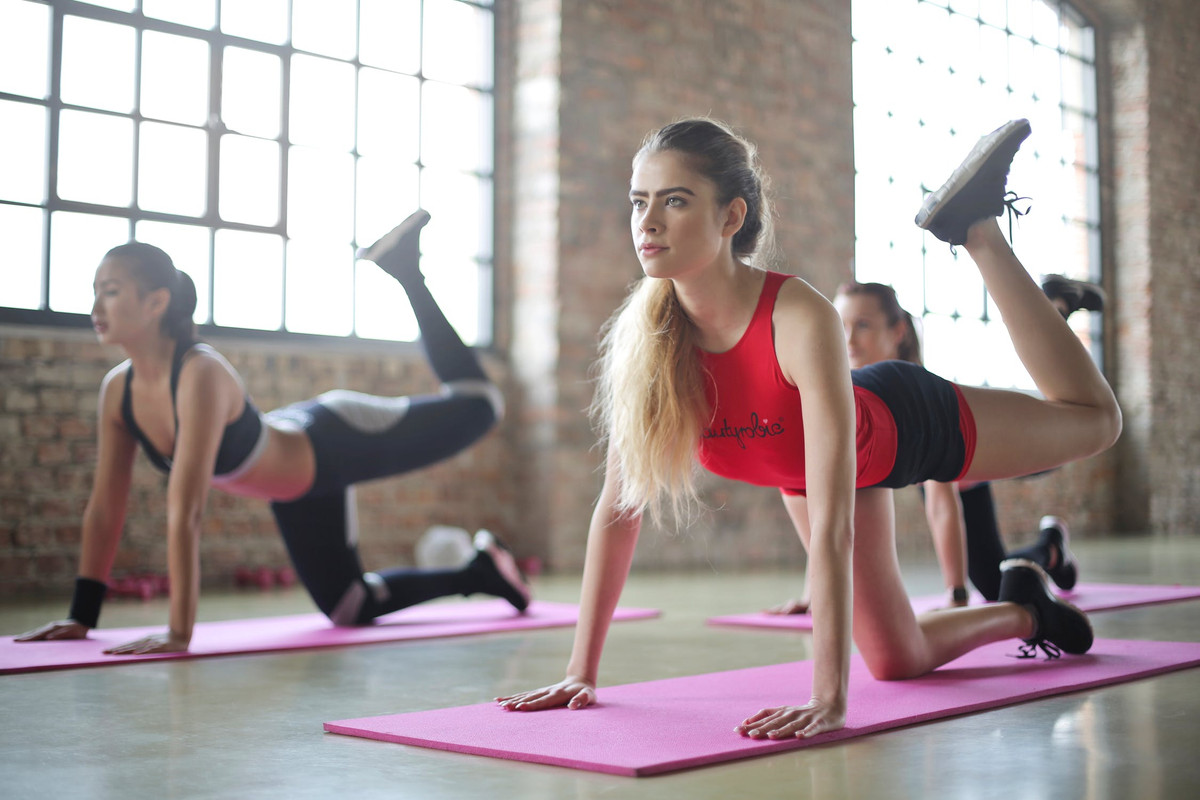 1. Explore the campus.
If it's the beginning of the year and you and your roommate aren't completely familiar with the campus yet, exploring the campus together might be a good idea. You can kill two birds with one stone: not only will you both know the campus better by the end of your outing, but you'll also know each other better. Walking around together will give you time to familiarize yourselves with the locations of certain buildings and talk about things that you have in common. For example, maybe you happen to come across the chemistry building and realize that both of you will be taking a chemistry class together.
2. Hit the gym.
Taking advantage of the gym on campus is a great way to bond with your roommate. Whether the two of you are bona fide fitness junkies or novices, the gym is a good place to explore and have fun together. Encouraging each other to work out – maybe twenty minutes on the treadmill one day, an ab workout the next day – could be a wonderful way for you to spend more time with your roommate, get to know him or her better, and cultivate healthy habits together.
3. Take a fitness class together.
If neither of you is particularly suited for figuring things out on your own when you go to the gym, you might want to sign up for a fitness class instead. A class will help you narrow down what kind of exercise you want to do and provide some structure to your workout. Your college is sure to offer a variety of fitness classes at the campus fitness center – from yoga to dance to kickboxing. Take advantage of these free classes and get your sweat on with your roommate.
After all, going to a class with someone else is usually more fun and less intimidating than showing up alone. The two of you will be able to have fun trying out the class together. Especially if it's something new and different that neither of you has ever tried before – say, Brazilian jiu-jitsu – you'll be by each other's side trying it out for the first time, laughing with one another, and lending each other moral support.
4. Watch a show being offered on campus.
Many colleges have theater and arts programs showcased on campus that are open for students, faculty and staff, and the general public. Often, these programs include theatrical performances such as plays and musical concerts, which students can get into for free or at least for a discounted price.
Taking advantage of these great opportunities could be a wonderful way for you and your roommate to have some fun together and be exposed to new and different forms of culture in the arts.
One benefit is being able to see stage performances for cheap right on the comfort of your own campus, which elsewhere would probably cost you an arm and a leg.
You also get to attend the performances to support your friends and fellow classmates, who have probably worked extremely hard to perform well in the plays, orchestra concerts, jazz ensembles, and whatever else the school offers.
What's more, attending these functions allows you to find out more about what your roommate likes and doesn't like. Maybe he isn't the biggest fan of musicals, but he loves wind ensemble concerts. Ultimately, going to a performance together will give you the chance to figure each other out a little bit … and maybe even discover some things you have in common.
5. Take advantage of other free programs your college offers.
In addition to theater performances, your college may also offer a variety of other free programs such as concerts showcasing contemporary bands and performers, comedians, hypnotists, and educational talks, just to name a few. These kinds of events are also really great to take advantage of, since – again – you can probably get tickets for free or at least much cheaper than they normally would be elsewhere. Attending these events can be a great way to spend a Friday or Saturday night with your roommate. You can go together, have a good time during the show, and still have something to talk about afterward.
6. Take an art class.
One of the free programs your college offers may be art classes. Even if you or your roommate is not particularly artistic, checking out a class might be worthwhile. If anything, you can both have fun creating something new, and at the end will have that creation to keep and remind you of the great time you had together.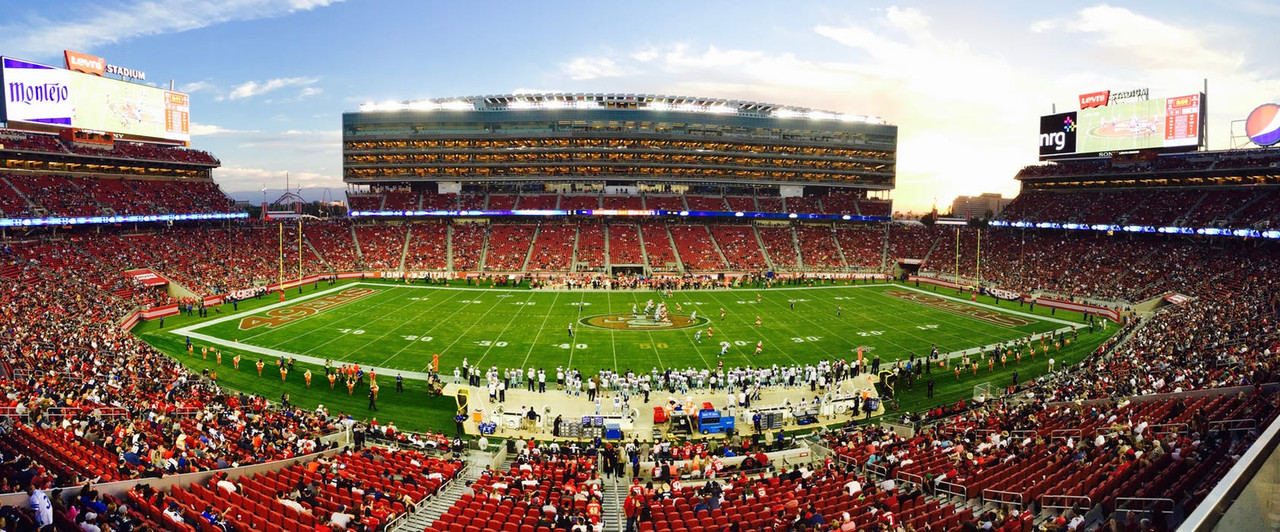 7. Check out some on-campus functions.
You probably get a whole slew of emails daily to your college email account, notifying you of this and that event happening on campus. During the week as well as weekends, your school is likely to be buzzing with activity and energy thanks to all of the scheduled events going on. From school formals to on-campus farmers markets to late night movie screenings, there are plenty of fun and exciting events to check out. Plus, they are all the more fun when you have someone to come along with you! So as soon as you hear about an event that sounds interesting to you, grab your roommate and pay a visit. You may end up being pleasantly surprised.
8. Go to a sporting event.
This may or may not be for you (or for your roommate) depending on how much either of you enjoys sports. But even if sports is not really your thing, going to a game or a match can certainly give you something to do on a nice weather day, especially on a weekend afternoon. Depending on the season, you have a whole array of sports to choose from – for example, football in the fall, basketball in the winter, lacrosse in the spring. Simply showing up and being surrounded by people on your campus with lots of pep may just help get your school spirit up too! Then you and your roommate will have the chance to spectate at the game and cheer on your school's players in a pumped up, exhilarating atmosphere.
9. Join a club.
One of the most effective ways for students to get involved on campus and make the most of the extracurriculars being offered is to join a club. No matter what kind of club it is – whether a dance club, a cultural club, etc. – being part of one is sure to make you and your roommate feel that you belong there. Especially if it's a club that meshes well with your personal interests, you are likely to feel welcomed into a community of like-minded people.
Volunteer and community outreach clubs are also great clubs for you and your roommate to join together on campus. Even when it seems that there may not be other common interests you and your roommate share, a community service club could be a good option. Not only do you get to spend time making friends and working alongside others to give back to the community, but you also get to add the experience to your resume. You can kill two birds with one stone!
10. Join an intramural sport.
One option among the many clubs you can join is an intramural sports team. If you and your roommate happened to play sports in high school but perhaps didn't want to play at a high level in college, an intramural sports team is perfect for both of you. (Even if you didn't play sports before, an intramural team is still a great way to be introduced to the sport in a welcoming, relatively low-stress, low-pressure environment.) Take advantage of the different club sports your college offers and bring your roommate along with you. And even if you both decide you didn't like it and never want to go back, at least you can say you tried it – and you will have another great memory to look back on.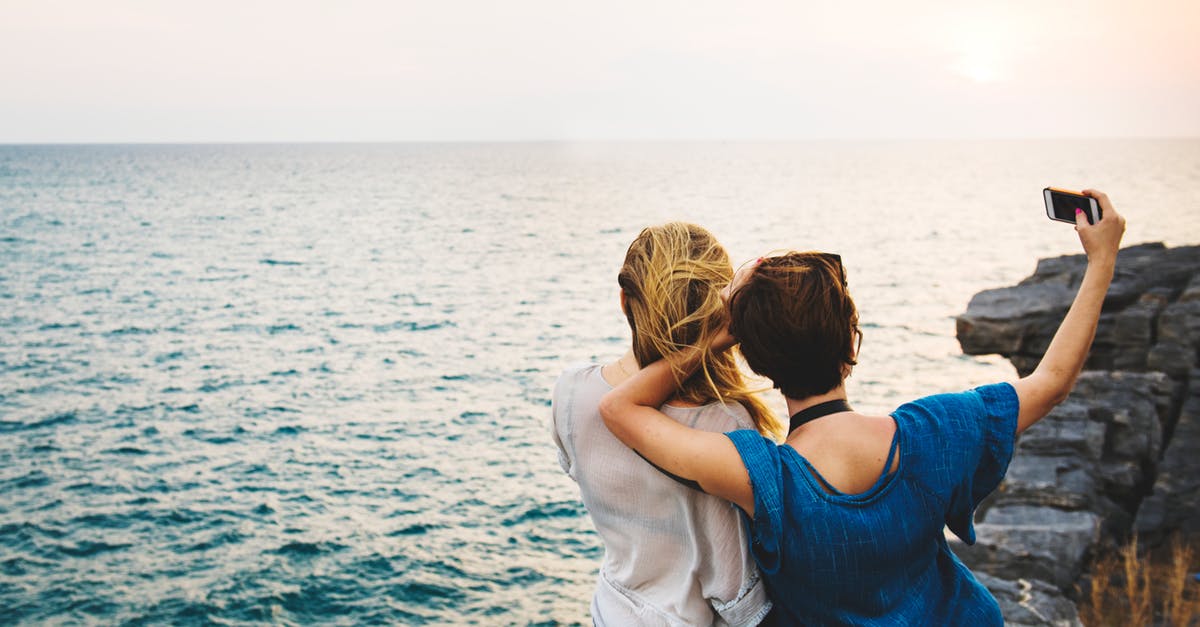 11. Plan a trip and travel with your roommate.
Something you can do with your roommate, separate from school, is travel together. Planning trips with friends is always fun and is a fantastic way to get to know them better.
Get together with your roommate and decide where you want to travel. The destination could be somewhere in the United States or, if the two of you already know each other fairly well and are feeling a bit adventurous, somewhere abroad. Think about your itinerary – what you want to do, where you want to go, and on what days. Planning when it comes to traveling is super important, as you want to make sure you're not stepping on anyone else's toes. In this sense, planning a trip with your roommate will help you learn more about his or her preferences, as well as allow you to work collaboratively with him or her to plan something that both of you can thoroughly enjoy.
12. Attend a student activities fair.
Perhaps an extracurricular in and of itself, a student activities fair is an excellent place to learn more about what the university has to offer in terms of clubs, organizations, and other things to do in your free time. As you and your roommate walk around the fair, you will each get your own ideas of what looks interesting and what doesn't. Simply exploring your college in this way can open a lot of doors for further conversation between you and your roommate, as you both figure out what you want to become involved in.
13. Decorate together.
With the two of you living together at school, you are bound to be spending a lot of time in the same room. That means you will both need to be happy with the way the room looks – and what better way to ensure that than to decorate it together?
Talk to your roommate about how each of you wants the room to look. If there's a certain aesthetic the two of you are going for, discussing it will make it that much easier and will allow you to work together to achieve that look. If you aren't gunning for a specific look, simply coming to an agreement will suffice. You can help each other decorate by hanging up pictures on the walls, rearranging furniture, hanging up lights, etc. Doing so might just bring you closer as you help one another and discover more about each other's decorative preferences.
Ultimately, there are many fun things you and your roommate can do together whether on or off campus. Talk to your roommate, pick something that looks interesting to both of you, and enjoy!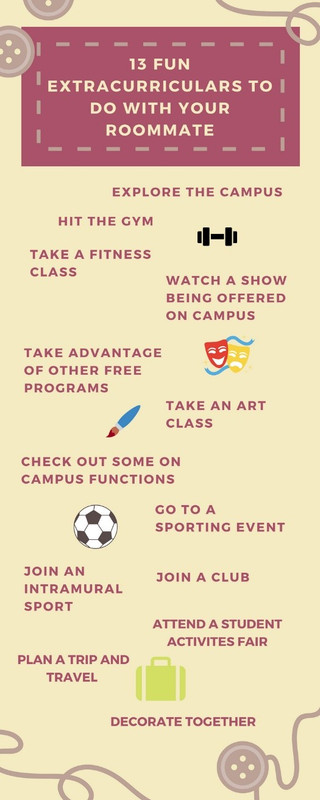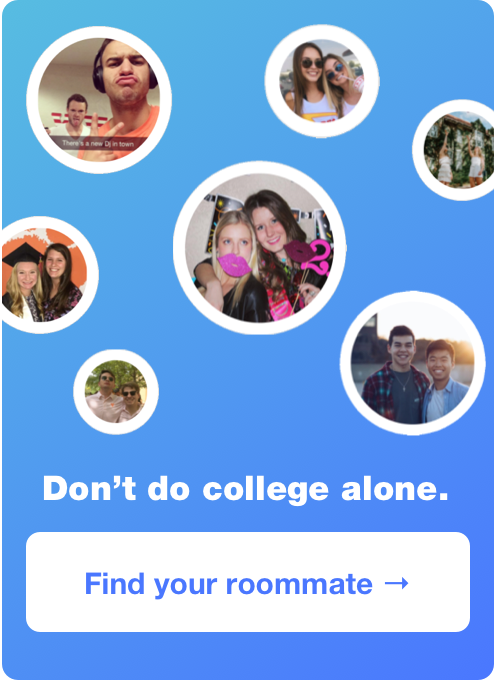 Interested in using our roommate matching formula to find the perfect college roommate for you? Create a profile & take the roommate quiz on Roomsurf! Get Started