15 Holiday Gift Ideas for Your Roommate
In your undergraduate years at college, care packages, gifts and financial assistance from family and people alike are frequent luxuries you cherish with all your heart. Family and friends want to do everything they can to make sure you have the smoothest college experience possible and it usually works out that way! Sometimes, however, gift giving can be difficult and with all of the options out there, it can be nearly impossible to figure out what is the perfect gift for someone.
Holiday shopping as a college student isn't necessarily easy because well, a lot of us are broke. Between tuition payments, student loans, and other expenses, many of us don't have a lot of extra money to spend. Additionally, as a roommate, you live and share just about all aspects of your life with your other roommate, knowing them inside and out. Despite this, knowing just the right present to gift them during the holiday season can be difficult. You may ask yourself questions like, "Do they really need this?", or "What if they already have something like this?" If you find yourself asking these questions, you're not alone! Are you currently sharing a dorm with someone? Are you freaking out over holiday shopping for them? Unsure of a great gift to give them? Check out these 15 present ideas to gift your roommate this season!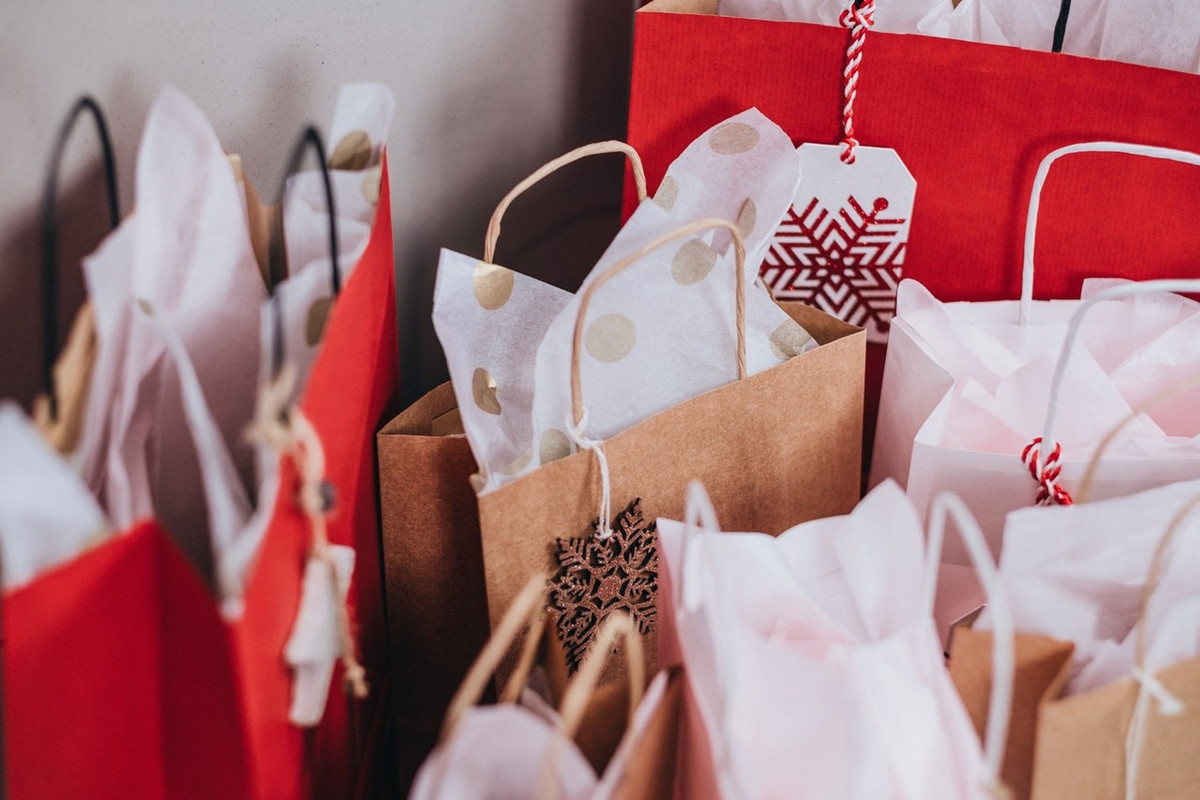 1. Gift Cards: While gift cards may seem like a thoughtless gift, they are very much appreciated by college students, especially roommates! Whether the gift cards are to restaurants, stores like Walmart or Target, or even for online companies like Amazon, they are definitely useful and can alleviate the stress of spending money on items that they would opt out of spending money on!
2. Coffee Press/Maker: College students run on coffee, I think we all can attest to this. Especially with the spring semester coming up and academics getting tougher, coffee is a necessity in order to function, so why not gift your roommate a coffee press or coffee maker! Perhaps their coffee maker is old and needs replacing or they just don't have one, a coffee press/maker is a great gift for roommates. They're inexpensive, useful and last awhile! Keurig is also a great option for a roommate that is always on the run and needs coffee quick! With all of the different varieties of coffee, you can put together a fun gift pack for your roommate to try!
3. Crockpot/Slow-Cooker: School tends to occupy most of our time which means that when it comes down to meals, we can get lazy about it. One of the greatest inventions of all time (besides sliced bread) is the crockpot. With the crockpot, you can prepare your meals hours in advance, put them in and cook them slowly for hours! The great thing about this? You can work or study all day and not have to worry about throwing a meal together when it's dinner time! This can eliminate unhealthy substitutions for meals and make life so much easier for your roommate, making it an awesome and thoughtful gift for the holidays!
4. Motivational Supplies: College can be tough and sometimes we can get discouraged when things don't turn out how we want them to. Sometimes, you just need a mood booster to help push you through that hard day/week/month! Motivational supplies like post-it notes, folders, notebooks, pencils, etc. are inexpensive ways to keep your roommate inspired and positive while in school. These supplies will always have nice messages like "Keep Calm and Carry On" or "I Can Do This", things that your roommate made already know, but a visual aid always helps! Not only will this help your roommate in the long run, but it will also show them that you care about them!
5. Aromatherapy oils: Not everyone gets on board with using aromatherapy oils, but I promise you they work wonders! Once you've used them, you'll be convinced that they are miraculous gifts sent from the sky. A few popular oils that are great for gifts are eucalyptus, lemon, tea tree, lavender, peppermint, and oregano. According to Dr. Axe of draxe.com, aromatherapy oils contain unique and therapeutic benefits, which include: improving respiratory issues (eucalyptus oil), helping with relaxation and healing cuts (lavender oil), cleaning items (lemon oil), helping kick a cold (oregano oil), supporting digestion and boosting energy (peppermint oil), and containing anti-bacterial qualities (tea tree oil). Convinced yet? You can purchase this nice gift set of these oils for less than $20 or get one or two to put in a stocking as a stocking stuffer for your roommate!
6. Microwavable Plush Warmer: Do you usually see your roommate slumped over their desk for hours on end? Do you hear them complain of neck and/or back pain as a result? One of the greatest gifts I've ever gotten was a microwavable plush warmer. It's like a stuffed animal that you can heat up to help with aching muscles and cramping! They come in a variety of animals from owls to elephants so you can find the perfect one for your roommate depending on what kind of animal they like! You can get them for less than $20 at select stores, making them a perfect and inexpensive gift for your roommate.
7. Toiletries: As an adult, sometimes the things we need are the most obvious necessities but they often slip our mind! Especially while we're in school, things like projects, homework or exams occupy our mind which can distract us getting stuff we really need. Pick your roommate's brain or if you're really close with them, raid their bathroom caddy or dresser to see things that they may need more of! Items such as deodorant, shampoo/conditioner, toilet paper, soap, and socks are perfect gifts for any roommate because no matter what, I guarantee you they will always need these items and will be wishing they had them once they used them up, it's just part of being an adult!
8. A Multi-functional jacket: Whether you are freezing in the middle of winter or are caught in the rain of spring, a jacket is always a necessity. A great gift for your roommate is a multi-functional jacket, one that can be used around all seasons. Qualities to look for include water resistant, lined with fleece or another warm material and hooded. An additional thing to consider when buying a jacket for your roommate is the sizing since you'll want it to both fit well but also be large enough to layer clothes underneath! A jacket that can last through the seasons can make commuting to class a little less discouraging, which will make your roommate happier!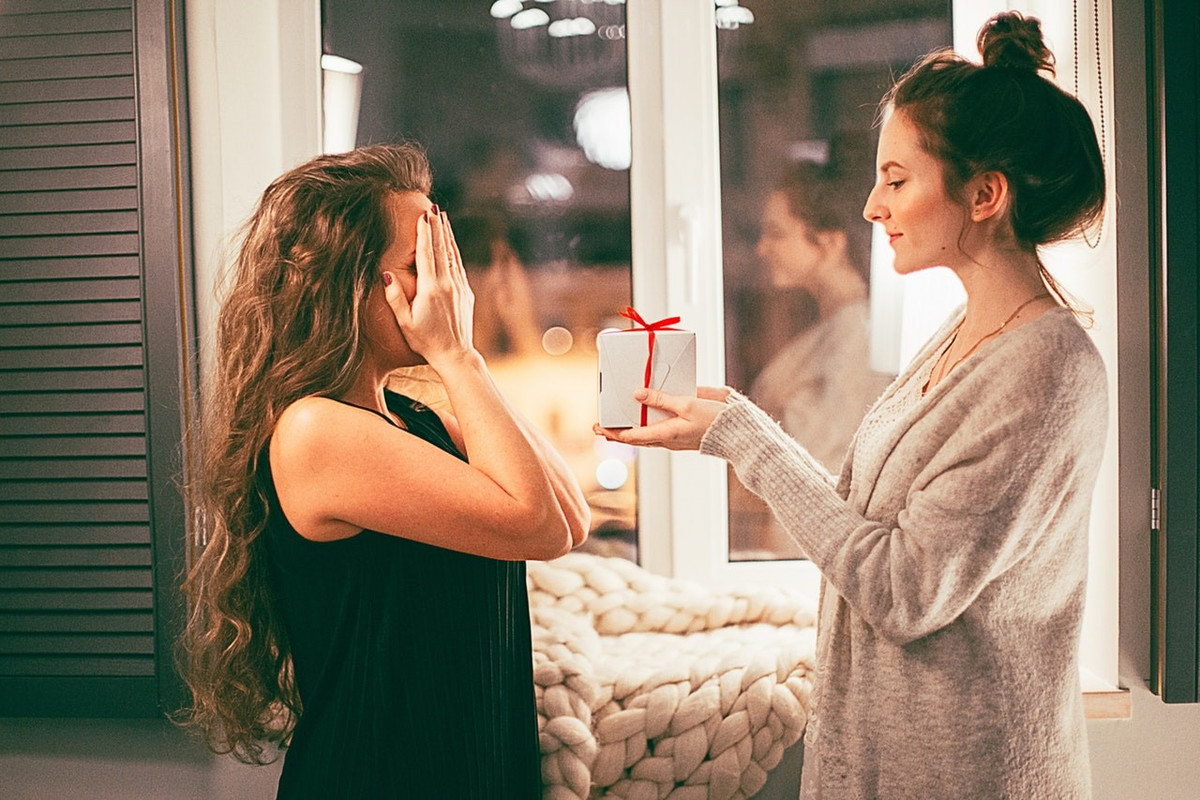 9. A watch: In class or at work, we can't always check our phones to see what time it is. Maybe your roommate has a busy schedule or maybe they just need better time management, either way, a watch is a great gift for your roommate to help make their life easier. Either a digital or analog watch is always useful for your roommate and adults in general, and the best thing is, they're inexpensive!
10. A New Backpack: So backpacks go through a lot over the years. Two years ago you may have spilled spaghetti on it and the stain never really came out, or you used it on a camping trip and the mud tracks have stuck to it like glue. Throughout the years, backpacks can get run down but no one really wants to fork out the money to get a new one, for one they're kind of pricey and secondly, who really wants to go backpack shopping? A new backpack can be a perfect gift for your roommate because they're useful and functional! Plus there are so many with different patterns and colors and ones with cool pockets for tablets and laptops, making them a thoughtful gift for your roommate!
11. Succulents: One way to help your roommate freshen up their dorm room is to put different kinds of plants throughout the dorm! Not only are plants a beautiful decorative piece, but they also give your place that fresh, spring vibe. According to Silvia C. of Daily Dream Décor, "[plants] help your home get more oxygen; they bring a happy mood into any space and help increase your work productivity." Not only are succulents inexpensive, but they are also super easy to take care of, even if you do forget about them for awhile- making them a perfect gift!
12. A fun mug: This gift goes hand-in-hand with college students' need for coffee. With so many of us running off of coffee every day, every hour, etc. sometimes you need more than one or two mugs to change up the game! One great gift to give your roommate for the holidays is a fun mug! There are so many options to out there, which can make shopping for your roommate a breeze! Pick up on some of the things they like, whether it's their favorite animal like a sloth or llama, their favorite show or movie, or favorite phrase and go to town! Places like Target, Walmart, or even Five Below have an awesome variety of options for holiday gift giving!
13. Personalized Picture Frame: To help remember the fun memories of you and your roommate together, gift them a personalized picture frame for the holidays! Places like the dollar tree have cute frames for only a dollar, which gives you more freedom to decorate it with jewels or stickers! Just get your favorite picture of the two of you, frame it, decorate the frame and you're done! Not only is this gift inexpensive, but it also is a great way to show your roommate that you care.
14. Fuzzy Socks: Around this time of year, the temperature drops and the chilly weather can leave us feeling cold and depressed. I'm not saying that fuzzy socks can solve your roommate's problems, but they can make them feel cozy and comfortable during these chillier months! Just about every store has fuzzy socks for an affordable price with a bunch of cool patterns, animals, and characters, making gift giving fun and stress-free.
16. Spa Day Essentials: Just about everyone needs a good spa day every once in a while (yes, guys included)! With the stresses of school, extracurriculars, work, and social life, sometimes you just need a day to unwind and relax. Spa day essentials are an awesome gift for your roommate, showing that you care about their well-being and want the best for them! Good spa day essentials include bath bombs, face masks, body scrubs and lotions, a fluffy robe, etc. Additionally, Target, in particular, has beauty boxes that have little samples of items related to the face and body, which would make a perfect gift for your roommate in need of a day off.
Some people truly don't get excited to do yearly holiday shopping, whether its due to the fact that there's a lot of money spending, or crazed people, or the overall stress of it. Having a good list of holiday gift ideas before you venture out into the world of shopping and holiday deals can make your life so much easier.
A lot of people think that the holiday season is all about the quantity of gifts that you give, but it's truly about the quality and the thought that goes into the gift you're giving to your roommate. Just the smallest of gifts can completely change someone's mood or their perspective on life! Perhaps the greatest piece of advice I can offer is to dig deep into your heart (and not your wallet) to give your roommate something you know they will love and appreciate. It's not about how much money you spend, or the brand name of the item you get, or how much of something you get, but the thought and the intention behind the gift you're giving.
If you aren't sure and still completely stressed out about what to get, just go with something easy like a gift card! In the end, I hope these ideas will keep you stress-free during the holiday season and make gift shopping a breeze! As always, good luck!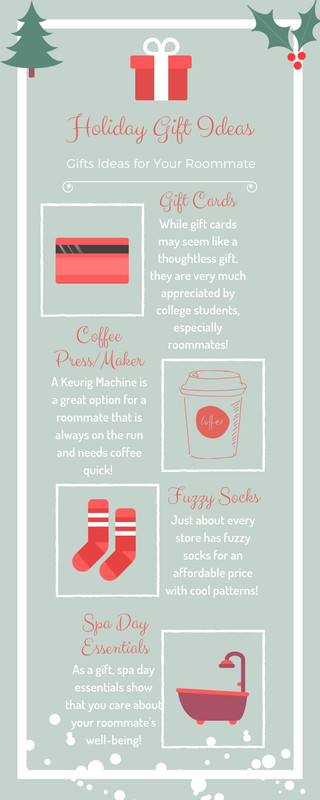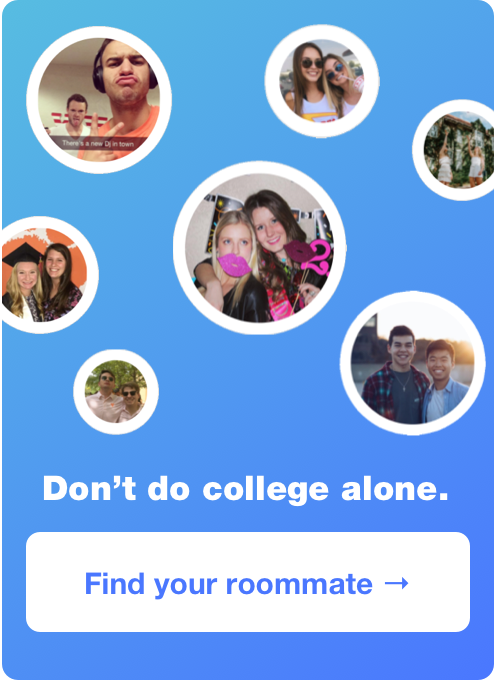 Interested in using our roommate matching formula to find the perfect college roommate for you? Create a profile & take the roommate quiz on Roomsurf! Get Started