Freshman Five: 5 Essential Safety Tips for New College Students
The transition into college is one of the most exciting – and frightening – times in your life. For the very first time, you are completely on your own. But more freedom also means more responsibility. Not only will you have to be accountable for your studies, but it's also your duty to look out for your own safety.

With that in mind, take a minute to look over the following safety tips for incoming freshman:

Get to know the campus

It's a good idea to get to know your way around campus before school officially starts. Find out where emergency contact phones are located and map out the safest routes to all of your classes. You'll want to use well-lit walkways at nighttime and avoid walking through areas where shrubs, trees or buildings could potentially hide a thief or an assailant.

Make sure people know where you are

Make sure that your family and close friends are aware of your daily routine. Provide your parents with a copy of your class schedule, and, before you go out, always let someone know where you're going, who you're going with and when you expect to be back.

Take advantage of campus resources

Every university is concerned with promoting a safe campus environment. In fact, you'll find that most of them have fantastic safety resources and programs for their students. These may include 24-hour escort services, counseling centers, self-defenses classes and more. Don't hesitate to utilize these resources if you feel compelled to.

Get in the habit of locking your doors

While it seems obvious, locking your doors is essential to ensuring your safety. However, you would be surprised at how many students simply neglect to do so. By locking your doors, you will not only help keep intruders out, but also help protect your valuables. Remember to also lock your car if you have one on campus. If you live in an apartment or other off-campus student housing, it's also a good idea to invest in a home alarm system. Check out SecurityChoice if you're looking for a high-quality system that's affordable on a college budget.

Be smart about social media

In this social media culture we live in, many young people feel to publish tweets and status updates about their daily experiences. Unfortunately, criminals are beginning to exploit Facebook, Twitter and other social media services to target homes for burglary and commit other illegal acts. Therefore, you should avoid posting live updates about any vacations or trips you're taking. You should also be suspect of people you correspond with over the Internet. Furthermore, make sure to adjust your privacy settings to limit the amount of personal information you share with others.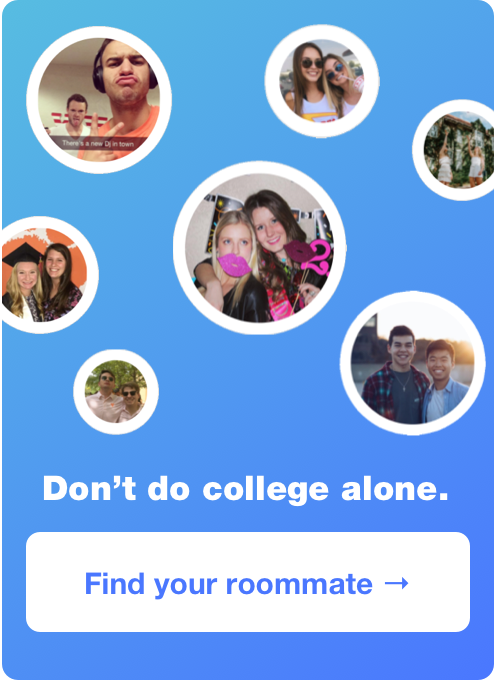 Interested in using our roommate matching formula to find the perfect college roommate for you? Create a profile & take the roommate quiz on Roomsurf! Get Started