Roomsurf in USA Today
Original article written by Megan Landau from Dormify in USA TODAY COLLEGE
Link: http://www.usatodayeducate.com/staging/index.php/campuslife/choosing-your-first-college-roommate
The spring of senior year of high school could very well be one of the most exciting seasons in our whole lives. Committing to a college, going to prom, graduating and, for many of us, choosing the roommate that we will be living with for next whole year. Finding a roommate is a little bit scary and very, very exciting. For some people, finding the perfect roommate even helps to make the final choice on what college to choose.
I'm currently in the process of finding a roommate, so if you're afraid of the "random" roommate like I am, you might find some of these tips helpful!
Some people find comfort in choosing a roommate that they already have some sort of connection to. Maybe you know the person from your high school, or maybe you have a few mutual friends. This seems like a very comforting option, but remember that if living with this person doesn't work out, you could potentially ruin a friendship! Sometimes, knowing that you have a friend on campus with you is enough — you don't necessarily need to be living with that person.
Roomsurf is a great option for finding roommates. When you join the site, you are prompted to take a short survey about your living habits and then fill out boxes such as "About Me," "Interested In," and "Message Me If." Roomsurf then compiles your top matches based on the survey.
After looking through the profiles of your matches, you can seamlessly click the "Find Me on Facebook" button, which brings you straight to the persons Facebook profile. Roomsurf makes it easy to meet the people who you will most likely be successful rooming with—plus, interesting info in your matches' "About Me" profiles is always helpful for breaking the ice in those awkward first few conversations!
Facebook makes it easy to find roommates, as well. Almost every college creates an official "Class of ____" page, where all incoming Freshman are invited to join. People talk about all sorts of things on these groups, from their own roommate preferences to their favorite movies and foods. Facebook groups also make it easy to find people who will be participating in the same clubs and activities as you.
Okay, so you've found someone who looks like they could be a potential roommate. Of course you'll do some Facebook stalking, but what comes next? Talking to someone for the first time is undoubtedly awkward and can even feel a bit like speed dating sometimes.
Obviously each conversation and person is different, but here are five important subjects to mention when speaking to your roommate for the first time.
1. Study habits. Does your potential roommate like to study in his or her room? If so, does it need to be silent? This may pose a problem if you plan on blasting music in the room at all times.
2.Visitors. If your friends from high school want to visit and stay in your dorm, will your roommate be upset? It would definitely be a better idea to answer this question now, rather than later.
3. Sorority recruitment. Are you planning on going through recruitment? You may be very busy for a few weeks during recruitment and it could be nice to be living with someone who is going through the same thing.
4.Sleeping habits. You definitely don't want to be up and about in the room at 3 in the morning if your roommate goes to bed at 11 or 12 each night.
5.Common interests. You're going to be living with this person for at least a year, so you want to make sure that you share some interests! This could be anything from going to the gym together or watching a TV show together every week.
Good luck finding your perfect roomie!
ABOUT THIS SERIES:
Dorm, Sweet, Dorm.
At Dormify, we believe that dorm rooms should be just as fun, hip and fashionable as the college students who live in them. We get it. You want to walk into the white-walled, four-by-four, tiled dorm room that tons of people have lived in before and feel like this space is all you. That's why our Dormify Style Advisors share so many creative and stylish design tips and tricks, do-it-yourself projects and design solutions with students across the country.
But our spirit for style doesn't end there. We also design fashionable bedding, wall art and other home accessories—created specifically for beautifying dorm rooms. Our imaginative products bring style, comfort and personality to college students everywhere through bold colors, patterns and overall design innovation. Above all else, we want students to feel at home in their new homes—by feeling inspired to style their space. So read our blogs, listen to our Style Advisors, and be sure to look out for our full e-commerce site launch with a full product line this April.
If you like us in real life, you should definitely like us on Facebook and you should also follow us on Twitter. So read our blogs, listen to our Style Advisors, and be sure to shop dormify.com for inspiring dorm décor products.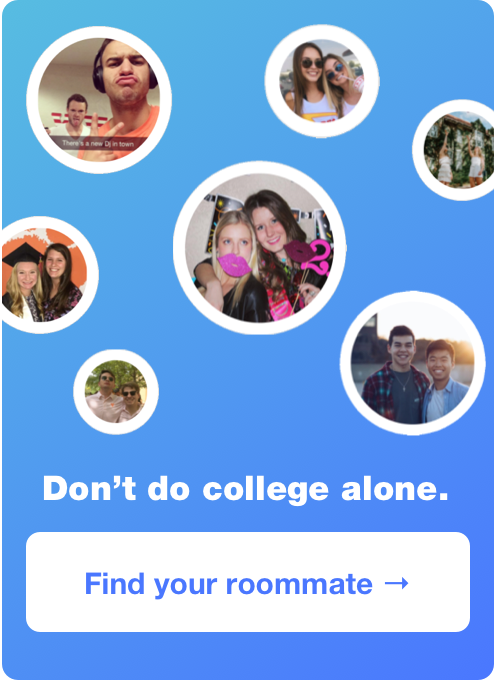 Interested in using our roommate matching formula to find the perfect college roommate for you? Create a profile & take the roommate quiz on Roomsurf! Get Started