Setting Boundaries With Roommates About Dating in the Pandemic
The coronavirus pandemic has brought on many changes to everyone's lives, from classes going remote to not being able to freely go about as you are used to. With six months into the pandemic, people are still adjusting to what they call their new normal. One of the many adjustments people continue to face is navigating dating during the pandemic. Whether it be starting new relationships or progressing in longterm relationships, it shouldn't come as a surprise that people are relearning dating norms amid the pandemic. One of these "norms" people are having to revisit is reworking boundaries roommates typically set about dating — when significant others are allowed, how often they are allowed over, and so on.
While many may feel more than comfortable expanding their quarantine circles, others may not feel so safe. As one can imagine, this can cause a rift between roommates who have different ideas about what is acceptable when interacting with those out of their homes. Keep reading for tips on setting boundaries with roommates about dating in the pandemic while keeping every safe and happy.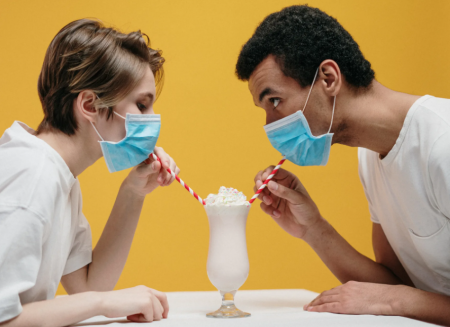 Photo: Pexels
Host open discussions about how comfortable you feel during the pandemic
If you are living with roommates, there always seems to be something you need to be setting boundaries on — cleaning duties, if you can get a pet for the apartment, redecorating shared spaces, and so on. In light of the pandemic, having guests over and maintaining social distancing to keep everyone involved safe may likely join the list of disagreements between roommates. Dating can be a tricky topic to discuss with roommates, so it is best to start off by discussing how everyone feels inviting others over, or even seeing others outside the household, during the pandemic.
Forget romantic interest — dial discussions down to what each roommate is comfortable with. While one roommate may be perfectly fine inviting others into their living space, another may want no outsider to come indoors in order to keep everyone safe.
Discuss whether or not you would allow anyone new into your apartment and whether that changes depending on whether that new person has been seeing other people or self-isolating. If you live somewhere with an outdoor space, like a porch or rooftop access you may also want to consider how that plays into your boundaries — are people allowed over in outdoor spaces, but not indoor spaces? Do boundaries differ between the two?
It is also important to set boundaries on roommates dating outside of the house. Whether you or your roommate or going to their significant other's living space or meet up in public spaces, it still creates the risk of bringing COVID-19 into your home.
Ideas for boundaries set between you and your roommates may include:
Outside guests must wear a face covering at all times when indoors (Question: Does this apply to all spaces or just common areas?)
Have roommates thoroughly clean and sanitize spaces after a guest comes over. Be sure to detail what sanitizing and cleaning should entail — set standards for everyone to follow.
Have outside guests self-isolate to limit risks. Be aware of everyone's personal quarantine bubbles.
It is also a great idea to encourage every roommate to host discussions with their potential partners. Everyone should be asking questions like if they prefer to continue talking online versus in-person, how many people they interact with, whether or not they want to meet indoors or outdoors, and so on.
Maintain boundaries and keep everyone in check
After you set guidelines down between you and your roommates, it is just as essential to hold each and every one of your roommates accountable, including yourself. These boundaries should apply to everyone and if you find someone is be violating them, it is important to address the issue as early as possible. These violations may just be due to a roommate misunderstanding certain boundaries, or they may simply just disregarding them and not taking them seriously. While you may feel rude or overly-strict pointing violations out, remember it's best for the health of everyone involved.
It is also important to remember that with every person you are inviting into your household or seeing outside of your household, you are increasing everyone's risk of exposure to COVID-19. While you may be controlling your own individual actions (and partly your roommates'), you will never be able to fully control someone else's actions. You may want to believe that everyone is taking safety measures just as seriously as your household is, they also may not be and have a complete disregard of safety measures. Whoever you or your roommate may be dating has others they likely come into contact with daily — their roommates, friends, and family members.
As reported by the Centers for Disease Control and Prevention (CDC), the more closely you interact with others, and the longer the interaction, the higher the risk of COVID-19 spread. While you (or your roommate) may be ready to move freely, especially when it comes to your romantic endeavors, you still need to keep everyone's wellbeing in priority.
Understand that while you may want to pursue your romantic interests — online dating is still very much a thing, so don't be afraid to take advantage of it during the pandemic. The pandemic has left many areas of our daily lives in uncertainty, with one of them being dating. Remember that every roommate is getting used to this new normal — and your new boundaries — and to treat it as a learning curve as everyone adjusts.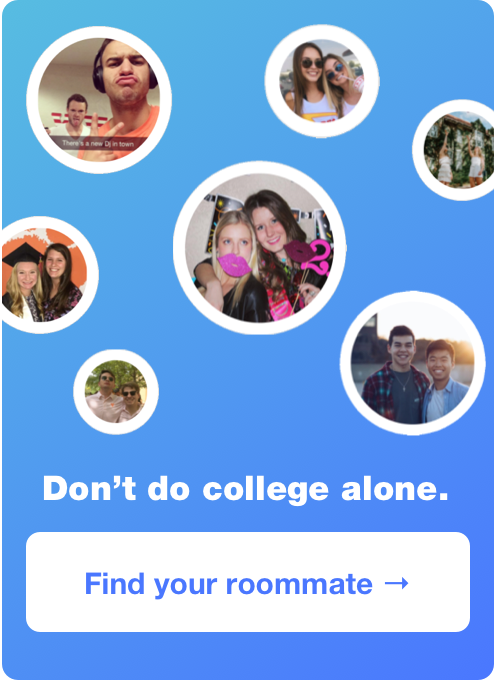 Interested in using our roommate matching formula to find the perfect college roommate for you? Create a profile & take the roommate quiz on Roomsurf! Get Started