What To Do Before Leaving Your Roommate And Apartment For The Summer
The end of a semester is a joyous time, especially if it means summer break and you get the summer off. However, before you pack up, there are a few things you need to do to ensure that everything is set and that loose ends are tied up. Whether you are graduating or returning, there are things that need to be done to wrap things up. Preparing throughout the semester will help you not be as stressed out while you deal with final exams and projects at the end of the semester.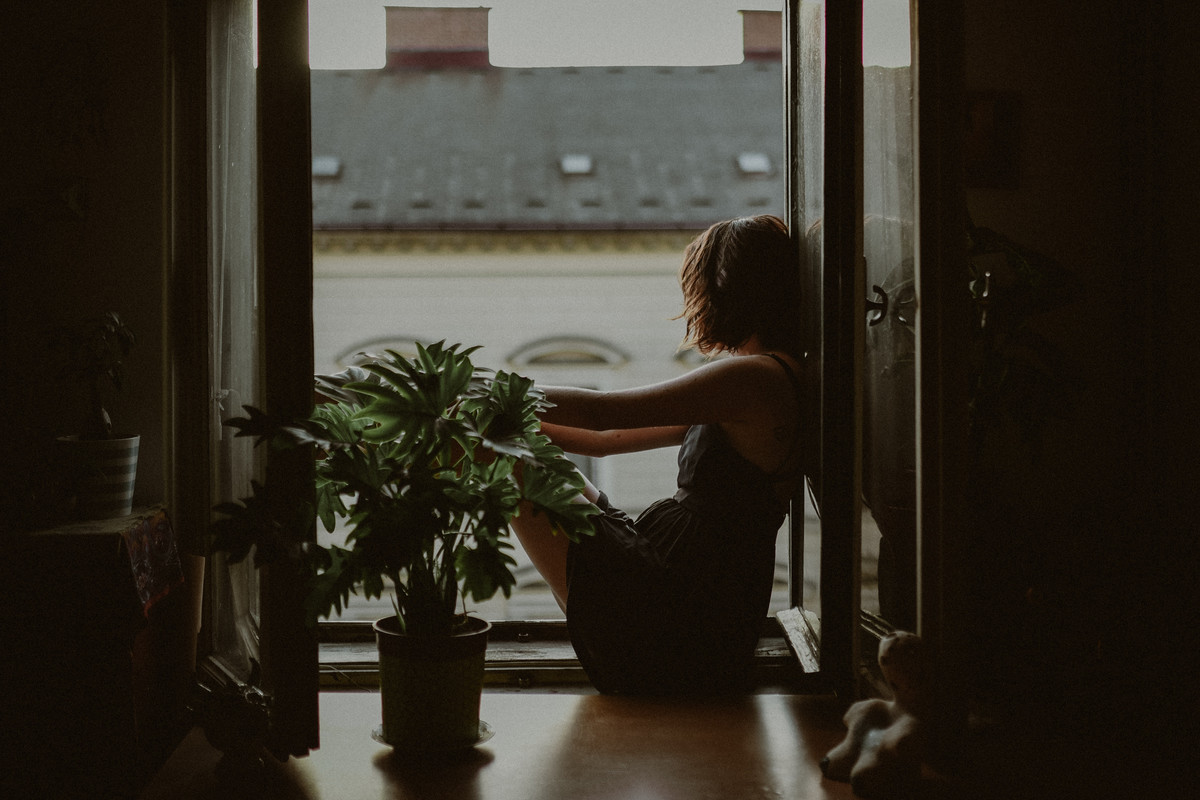 Apartment
Leaving a place you called home for a semester or even a year can be difficult. You likely had memories that will last a lifetime and had a lot of things happen during your time in the apartment. If you are moving to a new apartment next semester or if you are leaving, the last moments in your apartment from this year can be bittersweet.
Sublet Your Apartment
If your lease is not up but you are going home for the summer, ask your landlord about subletting your apartment. Many students take summer classes and need somewhere to stay. However, check with your landlord or your contract to make sure you can sublet it. If you can, set up a meeting with your landlord to find out what to include in the sublet contract and to find out what the process is for setting up a sublet. Even if you are not living in the apartment with the person who is subletting your apartment, if something happens, you are responsible for any damage or broken rules.
Leave a note for the next tenants
Ask your landlord if you can leave a note for the next renters about the apartment. For many, writing is a great way to deal with the emotions that come with change, such as leaving a place that has become a home away from home from you while you are at school. Write about the diner next door where you and your roommates would eat at during late study nights. Tell about the memories you have had, such as parties or friend visits. Provide tips for the next renters about hidden gems of the apartment and things that are not as pleasant that they should know. Think about what you wish you knew before moving in a write about that. This will help you deal with sad emotions that come with changes while helping to provide tips to new people.
Have one final party
Throw an end of semester party or get-together in your apartment. If you were known as someone who constantly had people over, there is no better way to end your time in your apartment than to do just that. Have a celebration after finals are over to rejoice in another semester or even year complete. If your guests spent a lot of time at parties in your apartment, ask them what their favorite memories of the apartment are. If you opt for a smaller get together, have your guests sit in a circle and go around the circle, sharing stories and memories of the apartment.
Thank your landlord
Be sure to thank your landlord for allowing you to live on his or her property. Your landlord had no obligation to choose you and your roommates for the room. Also, your landlord probably helped you out when something needed a repair, even if it just meant calling someone to come in to fix it. Although it is not expected, at least send your landlord a thank you card or letter. It'd you can afford it, send them a gift card or another small gift for all they have done. Have your roommate pitch in. When you have the final walkthrough, give the note and gift to your landlord.
Notify your landlord that you are moving out
If you are not moving back into the apartment once your lease is up, give your landlord notice that you are moving out. Check with your local laws or lease contact to ensure you do not face legal or financial penalties. Write a letter stating your intentions. If you need to leave before your lease is up, check with the contract and contact your landlord as soon as possible to figure out what can be done. As mentioned before, you can sublet your apartment to someone taking summer classes.
Clean and repair your apartment
Make sure the apartment is clean and that any necessary repairs are made. Many contacts spell out what needs to be done in terms of cleaning and repairs. Also, some landlords have a fee for cleaning the apartment after you leave. During your final walkthrough with your landlord probably, see if you can get some money back based on your cleaning and repairing efforts.
Schedule a final walkthrough with your landlord. This will be used to determine if the apartment is clean and damage has been taken care of. If possible, have your landlord come to your apartment before the final walkthrough to see if there is anything that needs to be taken care of. That way, you have a set list of things to do and you can be as prepared as possible.
Reflect on your time in your apartment
Take time to reflect on the lessons you learned while living in the apartment. If it was your first apartment, every first experience with the apartment was new. In the days leading up to your departure from the apartment, write down things you experienced for the first time and lessons you learned from things that happened. This will help you in case something similar, like something breaking, happens in a future apartment. Before you leave for the last time, take a deep breath and look back at your apartment once more.
Remove your belongings
Make sure you move all of your belongings out of your apartment. Once you hand in your keys, it can be next to impossible to get something you left behind back. This is especially true if your landlord hires someone to come in and clean between tenants. If there are things you do not need or are unable to move all at once, you can either sell them or put them in a storage facility until you can take them to where you are living. Many times, there are things that you do not need to take with you since you can buy them later.
When moving out, there may be things you do not want or need, or that are not logical to take with you. If you are looking to get rid of things you are not taking with you, have a yard sale. You can even get other students who are moving out involved so they can get rid of their things as well. There are even ways to sell stuff online, such as various Facebook groups or eBay. If you know someone who is moving into an apartment and is looking for something you are getting rid of, you can give them the item for free.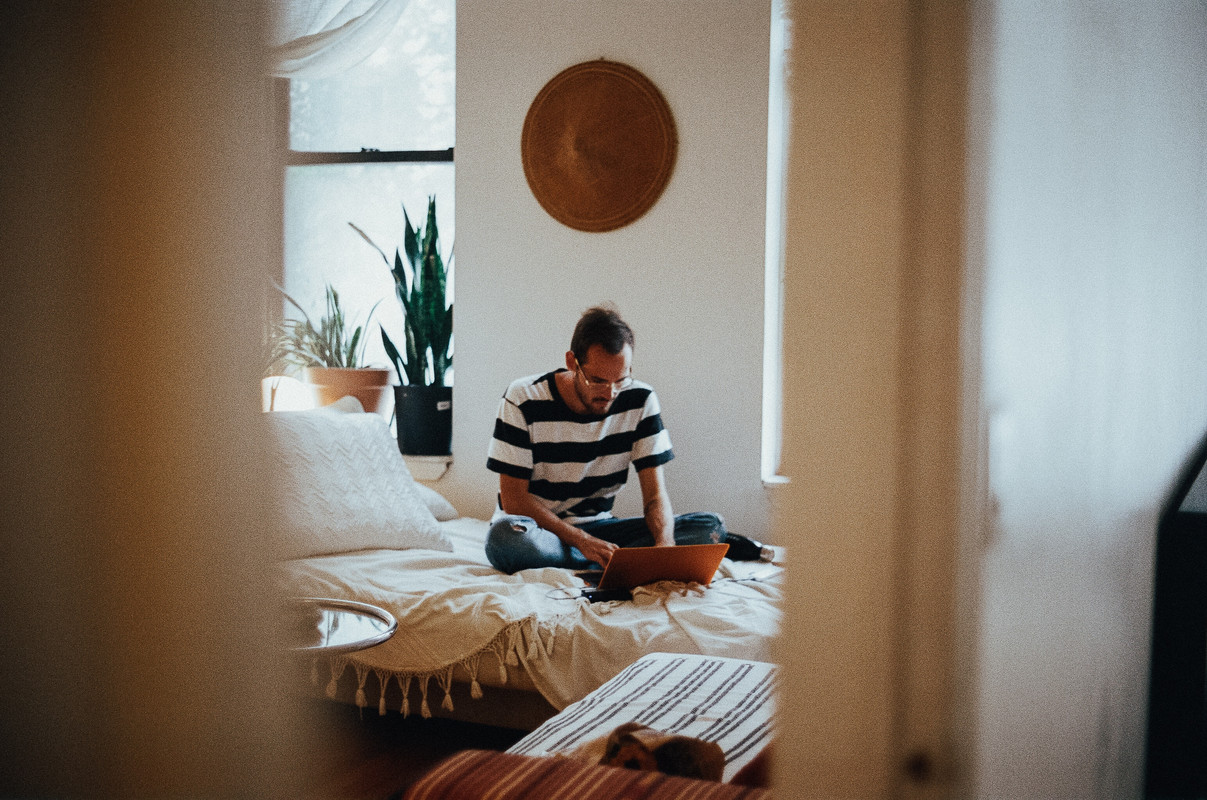 Roommate
Chances are, if you are graduating or studying abroad next semester, you and your roommate will probably go separate ways. Even if you well both be on campus in the fall, there is no guarantee that you will be roommates again. Before you go your separate ways, even if it is just for the summer, plan to stay in touch and have a memorable past few days together. Hopefully, you will be able to see each other over break or at least keep in touch often.
Plan a fun night in
Plan a fun night in for after finals and before moving out. Whether it is a spa night, game night, or movie or Netflix marathon, having something to look forward to after finals will make things less stressful. One last hoorah will give you something to remember when you are missing your roommate over the summer. Make it memorable and take photos of the occasion. Be sure to include time to talk about the time you spent together. If you choose to do a movie night or a craft night, make a scrapbook or a photo frame that include photos of you and your roommate. That way, you have something tangible to hold on to when you miss each other.
Exchange home addresses
Make sure you exchange home addresses. That way, you can visit each other. Also, you can be pen pals and exchange snail mail over the summer. If you go on vacation, you can send each other postcards from your journeys. While emailing, texting, and communicating through social media is quick, receiving mail that is not a bill is fun and special. Even if you write every other week or once a month, it is something to look forward to. If you see something while shopping online or in-store that reminds you of your roommate, having the person's home address makes it easier to get it to them.
Compare schedules for next semester
If you know that you are both going to be on campus next semester but are not rooming together, exchange schedules and arrange to meet up at least once a week. Going from seeing each other at your most vulnerable moments to only seeing each other sometimes will be an adjustment, so having a set time to meet up will give you both something to look forward to. If you have GenEd classes that you both need to take or are majoring in the same thing, see if you can take classes together and be study partners.
Make plans to visit each other
Over break, try to make an effort to see each other. If you live near each other, make a point to see each other once a month at least. However, if you live across the country or around the world from each other, it can be more difficult. Save up your money to go on a vacation somewhere together or to see each other's hometowns. If you are unable to squeeze in going to each other's homes in one break, alternate breaks. Communicating through digital devices or even snail mail keeps you in touch, but nothing beats being able to see each other face to face.
Plan for your next apartment
You and your roommate may be planning on living together again, especially if you have become close friends. However, you may be moving to a new location where the apartment has a completely different setup from your old apartment. Look at photos of your new place and figure out the living arrangements and furniture. Decide if you want to keep the same décor or if you want to change it up. If you decide to stick with the same décor, move your current items into a storage unit near your new apartment. If not, find a way to sell them.
Have a genuine talk about your experience
If you have a roommate, you might not be able to tell if you are being annoying and they may not know the little ways they get under your skin. Even if you did not get along, it is important to sit down and discuss your experience honestly to figure out how each of you can be a better roommate. It is possible that you both had a great experience, and the discussion is all about pointing out how good of a roommate you are. This is also useful information so that you know how to continue being a great roommate if you get another one in the future.
Tell your roommate that you are subletting
If you are studying abroad or going home for break and your roommate will continue living in the apartment, you may decide that you want to sublet your part of the apartment to help save on rent. As soon as you make this decision, tell your roommate. Make sure you include them in finding the person who will sublease the apartment since your roommate will be living with them. Also, include them in creating a sublease contract so you cover all of the rules and costs of the apartment.
Leaving campus for the semester is more than just finishing your final projects and exams. You have to make sure your apartment is squared away and that you leave your roommate on good terms. It can be stressful to deal with everything all at once, but if you take care of things throughout the semester, you can be prepared.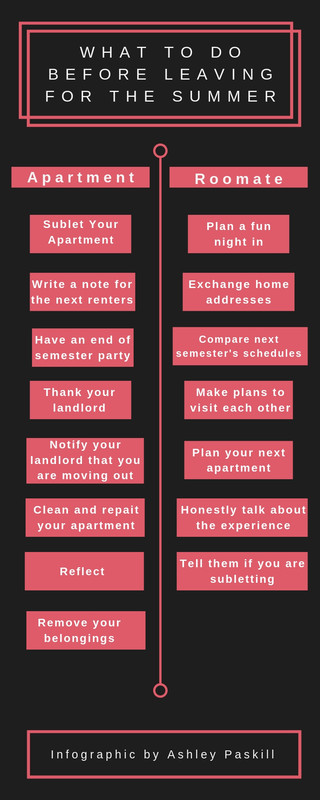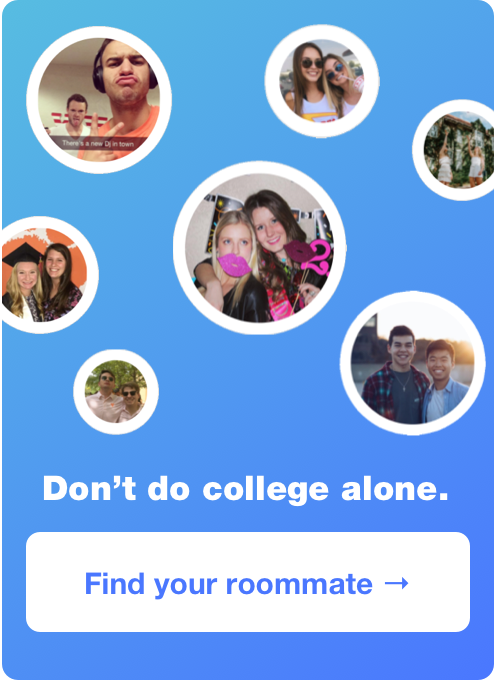 Interested in using our roommate matching formula to find the perfect college roommate for you? Create a profile & take the roommate quiz on Roomsurf! Get Started