The Ultimate New Apartment Checklist
Let's face it guys, getting your first apartment is a big deal. Whether you are paying for it completely on your own or getting help from your parents, having a real place with a roommate or two is one of the first ways to officially categorize yourself as an adult. After all, whether you moved out of your parents' house or moved out of a dorm, having an apartment is a completely different ballgame.
The responsibilities of living in an apartment are completely different than living at home or in a dorm. While being at home or in a dorm requires a certain amount of independence, having a place to yourself (even if you're living with roommates) in an apartment requires more of you as there are a variety of things to manage.
Living in an apartment for the first time is a beautiful and eye-opening experience that comes with great freedom and great responsibility. When planning a move into an apartment for the first time, keeping track everything and determining what to have in your place can become overwhelming. If you are about to move into an apartment and need some help, this comprehensive guide will help you figure out everything you need from the living room to the kitchen!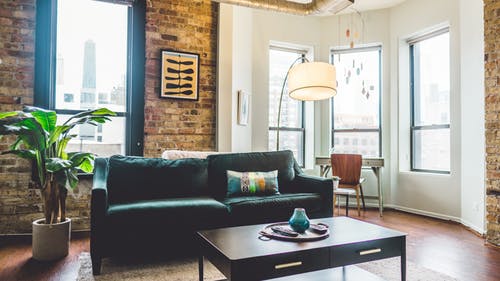 What to Do Before Moving In:
Moving into a new apartment isn't exclusively about the cost of rent or what your electric bill will be. There's a lot to take into consideration as well as what to stay on top of. For one, create a budget detailing the costs of moving in, including deposits, moving costs, purchasing items for the apartment, etc. to give you an idea of what money you need. Additionally, here are a few more things to do to ensure your space is ready to move in!
○ Change the locks
○ Check for bugs and rodents/call an exterminator: Before you do all the work to move in furniture, be sure to check for creepy crawlers and rodents. You don't want to have to go through the hassle of moving everything again if an exterminator needs to come out!
○ Design the layout of your space: Measure the square footage of the area and try to come up with a general idea of where you think your furniture will go. This will make things a lot easier and less overwhelming once you start the physical part of the move.
○ Get your multi-plugs figured out: A blogpost by Unpackt notes the importance of this, writing to, "attach multi-plugs to power outlets in the areas you will need them before your stuff gets in the way."
○ Clean, Clean, Clean!
When You Move In
Now that your move-in day has come and the process is happening, it's easy to get lost in the chaos of unpacking and figuring out what to do with all of the stuff you've accumulated. Before you dump out all of your boxes and plop of the couch to take a power nap, there are a few things that can make your life easier!
○ Document Your Space: Before you fill up the apartment with your items, be sure to document the condition of the space first. Adrienne Breaux of Apartment Therapy writes, "If your landlord has asked you to fill out a condition report, do it as soon as you're able to, and follow their instructions on whether you're to drop it off to them or send a digital file, and include photos if you can. Also, make plenty of notes and photos to keep yourself."
○ Put your boxes in their corresponding rooms
○ Introduce yourself to neighbors
○ Work on one room at a time
Furniture
When moving into your first apartment, you may be compelled to want to get the best furniture that's out there. Luxury style couches, recliners, and other nice furniture may come across your mind as things you need to have in order to have a nice apartment- but that couldn't be further from the truth! You don't have to spend a fortune on furniture for your apartment to be both stylish and comfortable. Rather, you can save a lot of your money and make the process of getting furniture a lot smoother in the process.
There are a few ways you can get furniture on a budget, like getting older and unwanted items from friends or family, for instance! A lot of times, people like to get rid of furniture they have been holding onto for years, and this is a perfect opportunity for you to see if there's anything you could possibly use! Couches, chairs, tables, desks, dressers, bed frames, etc. that people get rid of are all things that you could use in your new place. Additionally, getting used furniture at a store like Goodwill or even at a local yard sale is a great option because the prices are cheap and affordable.
For the Living Room
The living room is perhaps one of the most important, if not the most important, areas of your apartment. It is the common area where you will most likely spend most of your time or where your guests will congregate when you're hosting a party. If you're moving into an apartment on your own for the first time, you definitely won't have loads of money to spend on an expensive coffee table or luxury wrap-around couch, and that's ok! As stated earlier, you don't have to splurge for your place to look nice and put together, all it takes are the right items that can make for the right feng shui. For your living room/area, these items can give you both functionality and balance.
● Couch: A necessary item for seating not only yourself but any guests who come over!
● Coffee Table: A coffee table is nice, but not necessary, to put small items like plants, the remote, or drinks on!
● Lounge Chair(s): When the couch is taken up, an extra lounge chair can help seat an extra person.
● Floor Lamp: If you have overhead lights, sometimes a floor lamp can provide more warm and cozy lighting!
● Table lamps: Similar to floor lamps, table lamps are both decorative and functional.
● Bookshelf: Are you a bookworm? Perhaps a collector of old VHS tapes? A bookshelf is perfect to not only have a place for these items but also to show them as well!
● TV, with stand or fixtures to hang on the wall: Not everyone has a TV in the living room, but it's definitely great to have when you don't feel like being in your bedroom or if you want to have a group movie night at your place.
● Desk and Chair: The open area of a living room is the perfect place for a mini-office set up with a desk and chair.
● Alternative seating: When you don't have a lot of money to spend on chairs, alternative seating like bean bags or couch cushions can do the trick!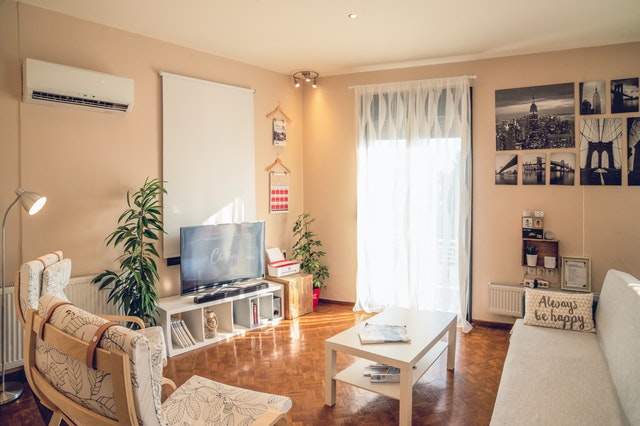 For the Kitchen
Some of us love to spend our lives in the kitchen, baking and cooking all kinds of recipes, while others stay as far away from the kitchen as possible. Whether or not you have a good relationship with your kitchen, you need it to serve a functional purpose in your home. Even if you eat ramen noodles every day, there are still basic, necessary items you need to have! You don't need to have everything on this list, and you can continue to stock up and grow what you have in the future!
○ Pots and Pans: A large frying pan, a medium and a large pan are perfect for just starting out.
○ Dishes: No need to go crazy on dishes, a set of four (two plates, two bowls) is great.
○ Flatware Set: Include forks, spoons and butter knives.
○ Drinking Glasses: Four is fine!
○ Mug: For those days when you need a hot cup of tea or want to enjoy some coffee. I suggest having two or three!
○ Coffee Maker: How can us adults function without some coffee?
○ Crockpot: Not necessary, but it can come in handy for busy days/weeks in preparing meals that can last a few days! You can get a crockpot for less than $20 at Walmart.
○ Microwave
○ Measuring Cups and spoons
○ Cutting Board
○ Knife set
○ Cooking Utensils
○ Baking Sheet
○ Oven Safe Dish
○ Oven Mits
○ Dish Towels
○ Dish Drying Rack
○ Garbage Can
Remember that you don't need to spend a ton of money on fancy, high-quality dishes or a set of pots and pans. Goodwill is an excellent option to get several of these items, as well as places like Walmart or Ikea!
For the Bathroom
Unlike the living room, you probably won't be spending most of your time in your bathroom (at least, I hope not)! While your bathroom isn't a highlight of your new apartment, you will definitely use it, as will guests, so it's important to have some essentials for both functionality and comfortability. You don't have to get all of these items right away, but its good to have a guide to evaluate what you need now versus what can wait!
○ Shower curtain and liner
○ Bath mat
○ Bath Towels
○ Hand towels
○ Hand soap
○ Trash can
○ Plunger, toilet brush, toilet cleaner
○ Mirror
○ Storage containers
○ Toilet Paper
○ Toothbrush/toothbrush holder
○ Toiletries (deodorant, hairbrush, perfume, face/body wash, etc.)
For the Bedroom
The bedroom is the space you can call your own at the end of the day when you're settled after work or when everyone leaves after a weekend party. It's your own little getaway, so it's important to have the essentials, but also indulge a little bit if you can.
○ Mattress: Like I said, if you can indulge a little bit, go ahead and get yourself a comfortable mattress because sleep is a coveted necessity in adult life. If you have a tight budget, a futon or an air mattress is cool too!
○ Sheets
○ Pillow
○ Comforter/Blankets
○ Lamp
○ Storage, such as a dresser, under the bed containers, or plastic organizers
○ Hangers
○ Hamper
○ Trash can
○ Mirror
○ Nightstand
Cleaning Supplies
As much as some of us wish we could avoid it, cleaning your apartment is necessary for your health and cleanliness. Some people like to go all out, scrub their floors every day, spray the countertop every hour, etc., while others are a bit more laid back about the upkeep of their apartment. Regardless, you're going to clean your space at some point, and in which case, you'll need some supplies to help get the job done.
○ Vacuum
○ Broom and dustpan
○ Feather duster
○ A mop of some sort, the Swiffer Sweeper is great!
○ Disinfectant wipes
○ Laundry detergent
○ Sponges
○ Paper towels
○ Dish soap
○ Bathtub/tile cleaner
○ Rubber gloves
○ Trash bags
Miscellaneous
Yes, there's a category in this list for stuff that doesn't have a designated space. Sometimes there are little things here and there that aren't super important, but you know you'll be lost without them.
● Flashlight
● Batteries
● First aid kit
● Extension cords
● Light bulbs
● Lighter
● Pen, paper, to-do list
● Phone Chargers
● Electronics chargers
● Internet Plan
Food
When moving into your apartment, the first thing on your mind is usually getting all of your furniture and necessities into the place, like couches and bedroom sets, tables and lamps, etc. But once all of that is done, you don't want to be left with no food in your apartment and an empty kitchen! Though it seems obvious, it can be easy to forget that you need to stock up on food to have in your apartment as well as with everything else! Here are some items you need:
● Rice
● Bread
● Flour
● Sugar
● Coffee/Tea
● Cereal
● Oatmeal
● Pasta
● Nut Butter
● Condiments like ketchup, mustard, mayonnaise
● Cooking Oil
● Butter
● Canned vegetables
● Canned fruit
● Pasta sauce
● Spices like salt, pepper, etc.
● Snacks like chips, cookies, etc.
● Milk
● Cheese
● Eggs
Living in an apartment with a roommate for the first time takes a great deal of responsibility, but you also get to learn a lot about yourself along the way. Though they may seem silly now, you will look back at this whole experience, especially all of your "firsts" and remember how well you did on your own for the first time and the great memories that came from them. During the move-in process, remember to ask for help when you need it and coordinate with your roommate, using this checklist as a guide to help you along the way. As always, good luck!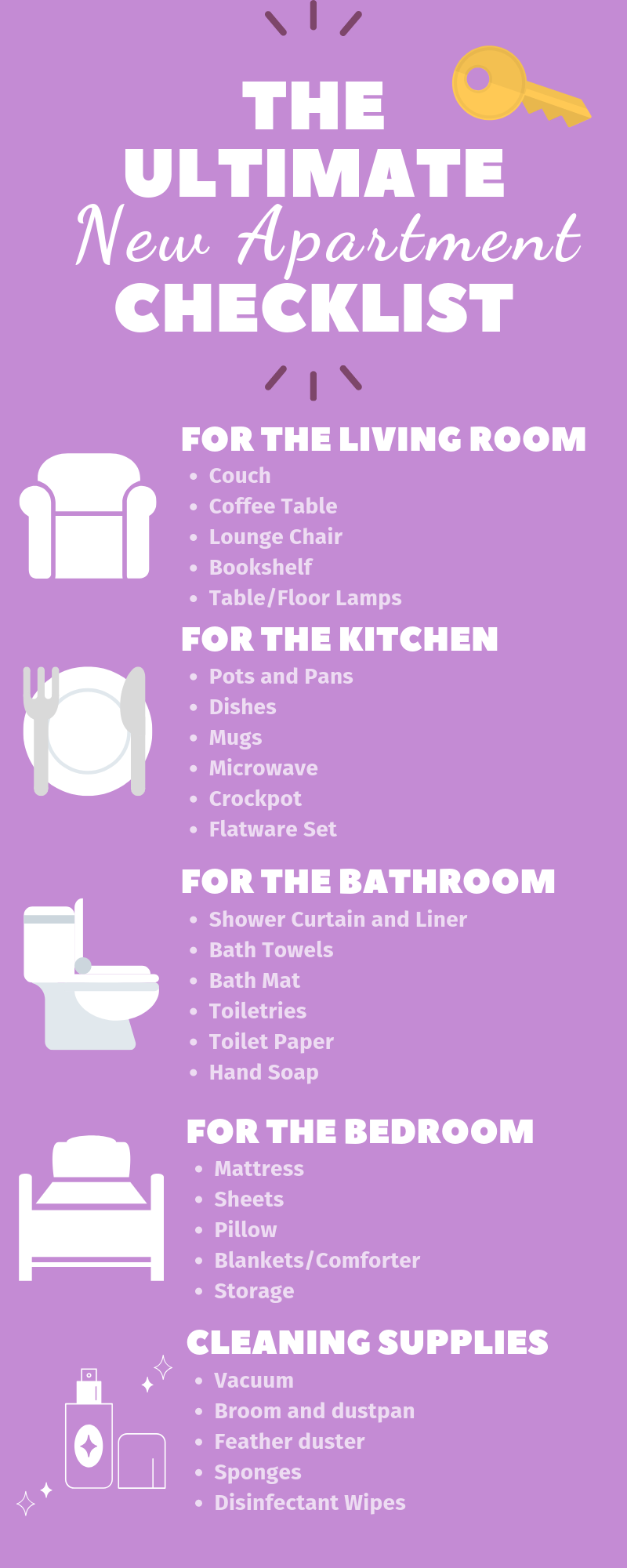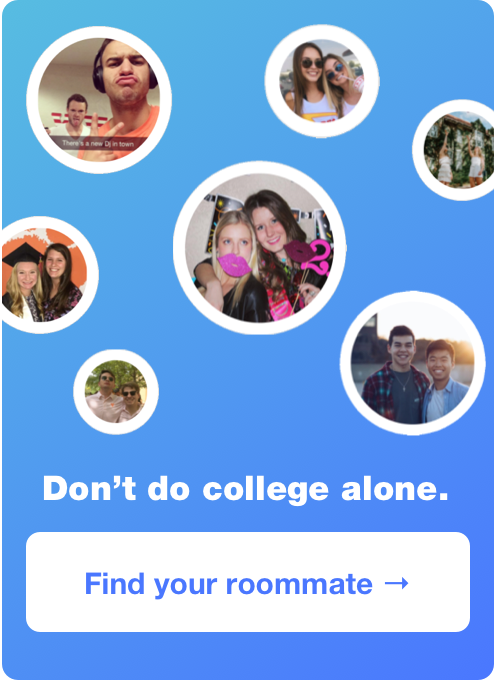 Interested in using our roommate matching formula to find the perfect college roommate for you? Create a profile & take the roommate quiz on Roomsurf! Get Started