Things To Consider When Taking a Weekend Trip With Your Roommate
College life can get stressful between classes, homework, work, and student organizations. Sometimes, it is good to get away for a few days, but it can be difficult to do during the week with so much going on. In this case, taking a weekend getaway is a great option. Even if you work weekends as well, you can request off so you can take care of your mental health. Going on a weekend getaway with your roommate is a great way to get to know each other off-campus while taking a much-needed and well-deserved break from campus life.
Figure out where you want to go
Deciding where you and your roommate want to go is the first hurdle. One of you might like a big city while the other wants to escape into nature. The best-case scenario is that you are alike in where you love going so that this decision is easy. Some factors that can go into where you go include the distance from campus, cost, and activities to do while there. Even if your campus is in a city, you may decide that you want to take a mini weekend getaway to a different part of the city. You may even decide to visit a different city. Another option is to go to somewhere surrounded by nature. If you or your roommate are from a town near campus, you can always go there. This is a great way for you and your roommate to get to know each other so that you can show each other where you grew up.
Establish a weekend when you will go
Since you and your roommate are in college, you have busy lives, especially with homework, work, and organizations. This makes it super difficult to plan a time where you are both available to escape campus for a weekend. When beginning to plan your trip, sit down and see what both of your schedules look like, either for the rest of the semester or the next semester. It may make sense to go after midterms or before breaks. Make sure you plan it far enough in advance so that you and your roommate can request off if needed.
Image via https://unsplash.com/photos/zVxq5S1jd5o
Decide how you will get there
If you or your roommate have a car on campus, driving is an option. Otherwise, you will have to find other options. Uber or Lyft may work if you are going somewhere close. If you live in a city, you may have access to various bus lines or trains to get to where you want to go. Airplanes are convenient, but they also tend to be expensive.
Once you get to where you want to go, make sure you know how you are getting back to campus. Also, make sure you have an idea of how you are getting around your destination, especially if you did not bring your own car. Walking or taking public transportation are your best options, but you can use ridesharing apps or taxis.
What to do, what to do…
Since you are only going away for the weekend, you have a limited amount of time. While you may be tempted to just wing it and see what you feel like doing when you get there, if you and your roommate have specific things that you want to do, you want to be sure you see everything. When you are planning, make a list of what you want to do while at your destination and have your roommate do the same. Once you are done, sit down and compare your lists. See what things your lists have in common and plan your trip accordingly.
When deciding what you want to do, do some research to see special things to do that are lesser-known to tourists. This will help make your trip even more memorable and you can help guide others to these places. Also, do not be afraid to do things that are out of your comfort zone. If you are afraid of heights, go up to an observation deck of a tall building. If you typically are a picky eater, try a new restaurant and new food that you never thought you would.
Money, money, money
While you may want to go all-out on your weekend trip, keep in mind that it is just a weekend and it is nothing to break the bank over. Also, remember that you are a student on a limited budget. There are plenty of websites and apps to help make sure you get the best deals on your travel, lodging, and activities. When making a list of things to do, look into free things. Even if you cannot do something for free, many activities, particularly museums, offer student discounts, so make sure you take advantage of this. Make sure both you and your roommate are paying for things equally so that everything stays fair.
Traveling with your roommate may seem impossible, but once you sit down and plan, you will be surprised at how everything falls into place.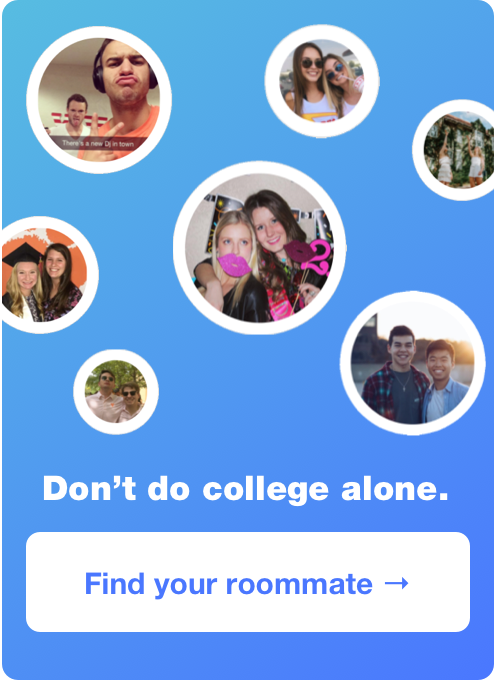 Interested in using our roommate matching formula to find the perfect college roommate for you? Create a profile & take the roommate quiz on Roomsurf! Get Started