College Roommate Tips
Winter is a great season full of Instagram-worthy pictures of the outdoors, baking cookies, and staying bundled up on the couch with Netflix as your companion. Some people like to venture outside, make snow angels (when snow is available), go on chilly morning walks or other winter activities. On the contrary, others enjoy the cold from the comfort of inside the house, wrapped up in a warm, fuzzy blanket.
Even though binge-watching your favorite Netflix series for the fifth time in a row or catching up on reality show reruns is tempting, this same repetitive routine can become boring when you and your roommates are looking for fun things to do. Whether you and your group like to stay inside or explore the outdoors during the winter, there are plenty of winter activities to do together. Read below for my favorites!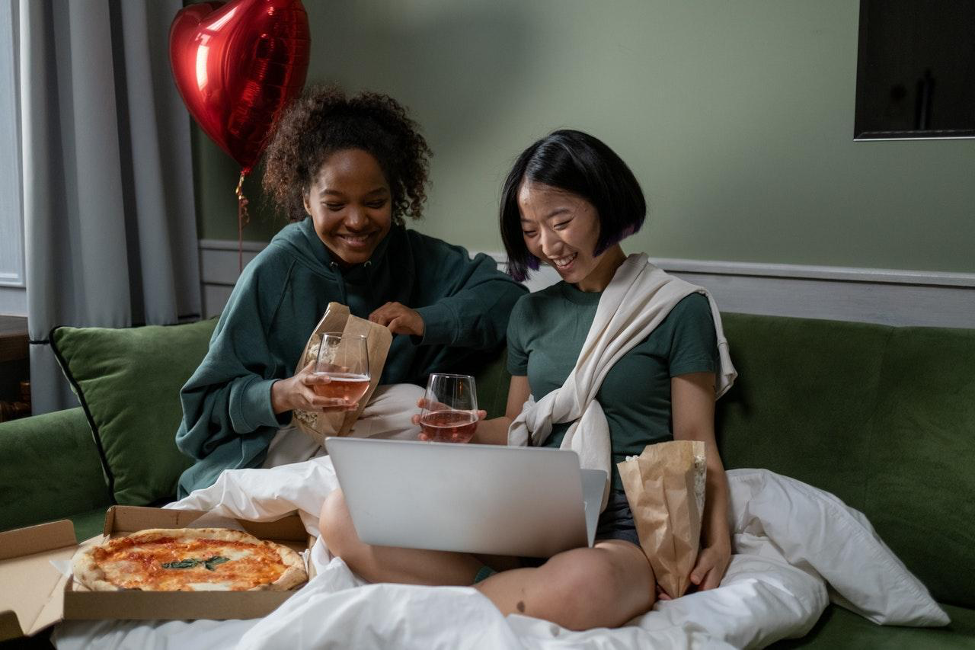 1. Fun by the Fireplace: One of the greatest feelings is cozying up to the fireplace after being out on a super cold day. Though a fireplace is not a household item for many, this can also take place by a space heater, wherever you can get that nice, instant warmth totally works. Have your roommates gather their blankets, pillows and get some of your favorite snacks for a fun time playing board games or even mobile games like Heads Up. You could even make s'mores on the stovetop or in the microwave and eat them by the fireplace/space heater for that outdoorsy, campfire feeling! Nothing says cozy like this, and if your group tries it, can you invite me too?
2. Indoor Movie Day: Remember being a kid and making blanket forts for just about every occasion? For this activity, you and your roommates have to embrace your inner child again. Gather up any blankets you can find in the house, (preferably larger ones because they make for better forts) and get to building a fort! You can use chairs, pillows, just about anything to hold up your blankets. After you all are done assembling your fort, pop some popcorn and collect some of your favorite candy or cookies to bring into your new lair. Once you have everything set up, everyone can vote for a movie and pop it on! Something seasonal like Christmas movies or even movies that take place during the winter are great as they contribute to the overall cozy ambiance.
3. Host a Tea Party: At first glance, this sounds a little lame, but it can definitely be fun! The winter months are a great excuse not only to stay inside but also to bake cookies and host tea parties! Play some of your favorite music to channel your inner Betty Crocker and scope out some recipes that appeal to you. You can never go wrong with a good chocolate chip and peanut butter blossom, but explore different cookies that you and your roommates like! Even better, each roommate can assign themselves a cookie to bake, kind of like a cookie potluck! After the cookies are baked, brew some tea; the standard Earl Grey is great, but if you are feeling adventurous, try something fun, whatever appeals to the group! When everything is made, assemble the plate of cookies, mugs for tea, and pretty napkins and embrace your inner Mia Thermopolis (Princess Diaries, anyone)?
4. Indulge in Comfort Foods: Winter is the perfect time to indulge in comfort foods. Some easy comfort foods include mac and cheese, grilled cheese and tomato soup, or French toast- all can be made on a budget and are super yummy and delicious. On a blustery cold day, invite your roommates to each make comfort food and have your own pot-luck style dinner with some candles and glasses of wine. Nothing is more appropriate for winter than hibernating in your apartment with roommates and enjoying some of your favorite foods, enjoy a bite for me!
5. Have a Spa Day: The stress of the semester coming to an end, studying for finals, and preparing for winter break can take a toll on just about anyone. When living with roommates, it's always important to check in with one another and make sure that everyone is not feeling burnt out. A cold winter day is a perfect opportunity for you and your roomies to unwind and relax together. Head to the store and get some face masks, soak some washcloths with warm water, gather all of your favorite nail polish colors, and have a spay day. If you have an air diffuser, using calming aromatherapy oils (lavender or eucalyptus) is a great way to make the space calm. Music is also a great help, so enlist the help of the roommates to find the perfect chill playlist. After this, everyone will be relaxed and forget about the plunging temperatures.
Whether it's having a post-seasonal Friendsgiving or indulging in a group self-care spa session, these winter activities are perfect to do with your roommates and will bring you all closer together before the semester ends.