College Roommate Tips
Whether you live far away from your home or are studying abroad, you may not have the chance to go home for Thanksgiving. Instead of sitting around and doing nothing, consider celebrating the holiday with your roommates. It may not be the same as spending time with your family, but your roommates can be your chosen family for the day. You are likely thankful for your roommates, so take the opportunity to celebrate them.
Food galore
If you are studying abroad, you may want to consider trying out the local cuisine and incorporating it into your Thanksgiving meal. One of the highlights of being able to study abroad is trying new food and embracing a new culture, so having dishes from where you are studying can help diversify your dinner table. For those just staying on campus for Thanksgiving, have everyone make their favorite Thanksgiving dish so you can learn something about each person. Have them say why they chose to make the dish, whether it is their favorite food or they grew up eating it at Thanksgiving. This will help you bond with your roommates as you will get to learn new things about them and their family traditions. If you and your roommates are not good at cooking, consider ordering takeout from a favorite campus or college town restaurant for your meal.
Location, location, location
Choosing the perfect location for your Thanksgiving dinner can be a challenge. Dorms can be a bit small for hosting multiple people, so consider eating at a dining hall or cafeteria on campus. See if there are any restaurants nearby that will be open for Thanksgiving, as these can be good spots for eating out as well. If you are studying in a warm environment, you may even consider a local park or beach for your meal. Just be sure to alert the appropriate parties to let them know your intentions of hosting a meal for you and your roommates in their facilities, and follow any required rules.
Decorate the space
Once you have found the space for the meal, decide what kinds of decorations you want to include. If you are studying abroad and there are not any Thanksgiving-specific decorations, consider using fall decorations. For those eating out at a restaurant for their meal, see what kinds of decorations you can and cannot bring, and see if the restaurant has décor already. You will have more freedom if you are able to eat in your own apartment or a dining hall. You can use things like tablecloths, candles and candle holders, signs, and other themed décor to help make your dinner more festive.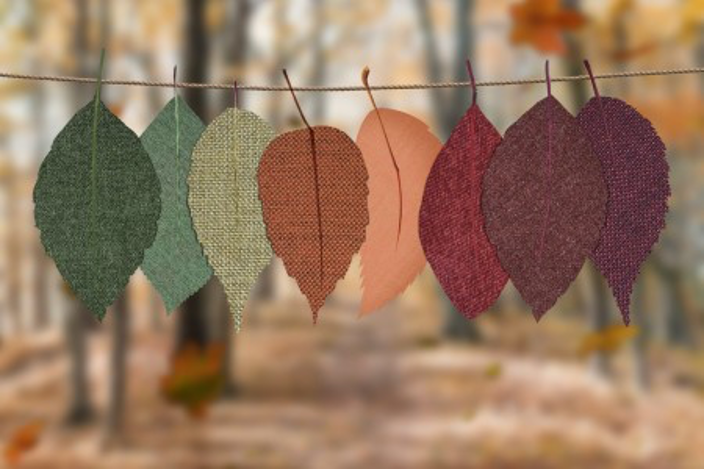 Image: Designecologist via https://www.pexels.com/photo/leaves-hang-on-rope-1389460/
Be budget-friendly
As a college student, it is crucial to be mindful of your budget. It may be tempting to go all-out and buy a lot of food or decorations, but it is important to take money into consideration. Have attendees bring a side dish. See if your campus has a Thanksgiving dinner for students living on campus. Many times, these on-campus Thanksgiving meals are free. When buying decorations, see what is available on sale or with coupons. Serve smaller portion sizes, which will help you reduce the amount of food you need to buy and will help save you money. If you eat at a restaurant, take any leftovers you have back to your dorm or apartment. Whether you cooked or ate out, actually eat the leftovers you have.
Plan activities
Usually, when you spend time with family on Thanksgiving, you do more than just eat and leave. It does not have to be any different when spending time with friends. Plan activities such as a movie marathon or game night to continue the festivities. This way, you do not have to feel sad about not spending the holiday at home. Consider playing some more active games or even having a dance party to cancel out the calories from dinner to stay healthy.
Look for off-campus activities
If you live in a college town, it is likely that there are plenty of activities you can do with your roommates off-campus. See if there are Thanksgiving-based runs or walks that you can participate in before you have a meal. You and your roommates may even decide that you want to volunteer some time at a soup kitchen for the day to help serve meals. Even just exploring your college town can be fun, even if stores are closed. Look to see if there are any parades in the town your school is in.
Enjoy the perks of being on campus
Whether it is saving money on travel expenses or not having to deal with nagging family members, there are a few perks to staying on campus for Thanksgiving. You get to spend more quality time with your roommates and if you live in the dorms, you get more access to the "good" showers. Take advantage of these perks while they last.
Being on campus for Thanksgiving break can be sad, but there are things you can do with your roommates to celebrate the holiday and take advantage of the time together.